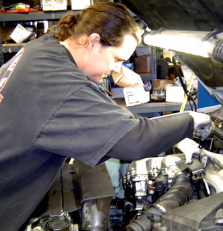 Welcome to Julian's Auto Repair in San Luis Obispo,
your Premier Auto Repair and Service Shop
With 13 years of auto repair experience, I know cars. Whether it be an American Classic, a German luxury sports car, or a Japanese import, you will be 100% satisfied when you pick up your vehicle. Anything funky, weird, or just plain hard to figure out is my specialty. With my well-rounded experience in automobile repair, I have formed for myself a reputation of being able to fix just about anything automotive. And you won't find a better rate in the county!
Let me handle your San Luis Obispo auto repair needs. Simply give me a call and find out how honest an automobile mechanic can truly be.

HONEST PROFESSIONAL REPAIRS...FOR LESS!
Specializing in automotive electrical systems
Free charging system check for your alternator
On-site rebuilding of alternator, starters, and CV axles
General maintenance- brake pads, timing belts, fluid changes, etc...
Major repairs
Low labor rate of $80.00 per hour
13 years of automotive mechanical experience
My Blog
If you're interested in auto repair and maintenance, feel free to look at my blog. It is in its beginning stages still but I plan on providing details of my experiences in the shop. Who knows? Maybe you'll learn something?
Links
Powered by: AutoVitals

We service and repair the following makes:

Kia Repair
Mitsubishi Repair
Toyota Repair
Honda Repair
Lexus Repair
Infiniti Repair
Acura Repair
Nissan Repair
Hyundai Repair
Subaru Repair
Mazda Repair
Isuzu Repair
Suzuki Repair
Scion Repair
Dodge Repair
Chrysler Repair
Buick Repair
Saturn Repair
Oldsmobile Repair
GMC Repair
Jeep Repair
Ford Repair
Hummer Repair
Cadillac Repair
Chevrolet Repair
Chevy Repair
Pontiac Repair
Geo Repair
Lincoln Repair
Plymouth Repair
Mercury Repair
Opel Repair
Porsche Repair
Smart Repair
Volkswagen Repair
Audi Repair
VW Repair